Current Weather for West Palm Beach, Florida
Daily Forecast for West Palm Beach, Florida
Partly Cloudy

Sunshine and clouds mixed. A stray shower or thunderstorm is possible. High near 90F. Winds ESE at 10 to 15 mph.

Chance of a Thunderstorm

Partly cloudy early. Scattered thunderstorms developing in the afternoon. High 91F. Winds S at 10 to 15 mph. Chance of rain 60%.

Chance of a Thunderstorm

Partly cloudy in the morning followed by scattered thunderstorms in the afternoon. High 92F. Winds SW at 10 to 15 mph. Chance of rain 60%.

Chance of a Thunderstorm

Partly cloudy early with thunderstorms becoming likely during the afternoon. High 91F. Winds SW at 10 to 15 mph. Chance of rain 80%.

Chance of a Thunderstorm

Scattered thunderstorms. High 88F. Winds SSW at 10 to 15 mph. Chance of rain 60%.

Chance of a Thunderstorm

Scattered thunderstorms. High 88F. Winds S at 10 to 15 mph. Chance of rain 60%.

Chance of a Thunderstorm

Variable clouds with scattered thunderstorms. High 89F. Winds SSE at 10 to 15 mph. Chance of rain 60%.
Live NWS Radar for Miami, Fort Lauderdale & the Palm Beaches
Severe weather worldwide is not something that most can escape from, but you can provide for it by preparing in advance when severe weather threatens. Learn basic weather cues so you know when to take shelter and plan in advance of an approaching storm. There are many weather events that have cost thousands of lives. Hurricane Katrina is an example. For many days in advance of the storm warnings went out. But not everyone could escape. Heed your local warnings, you and your families lives could depend on it.
Current US National Radars
Current U. S. National RADAR (Intellicast CONUS)
Current U. S. National Tornado and Severe Weather Map (NWS)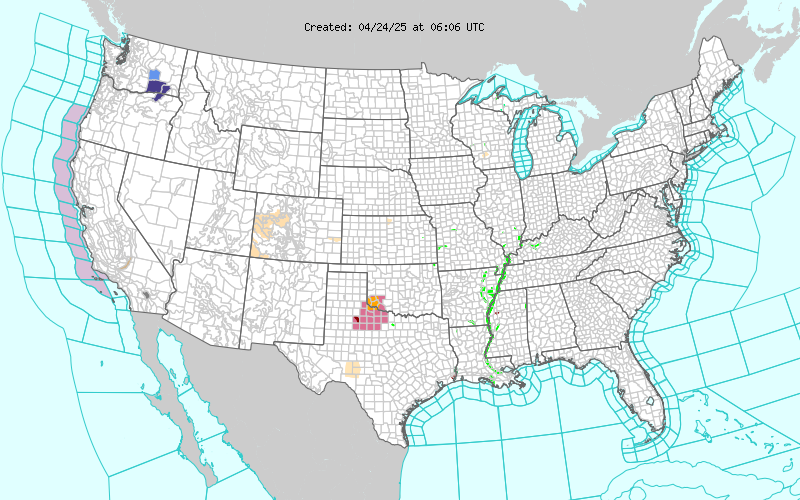 Color key for National Weather Service storm warnings map. Image Credit: NWS.
Tropical Cyclones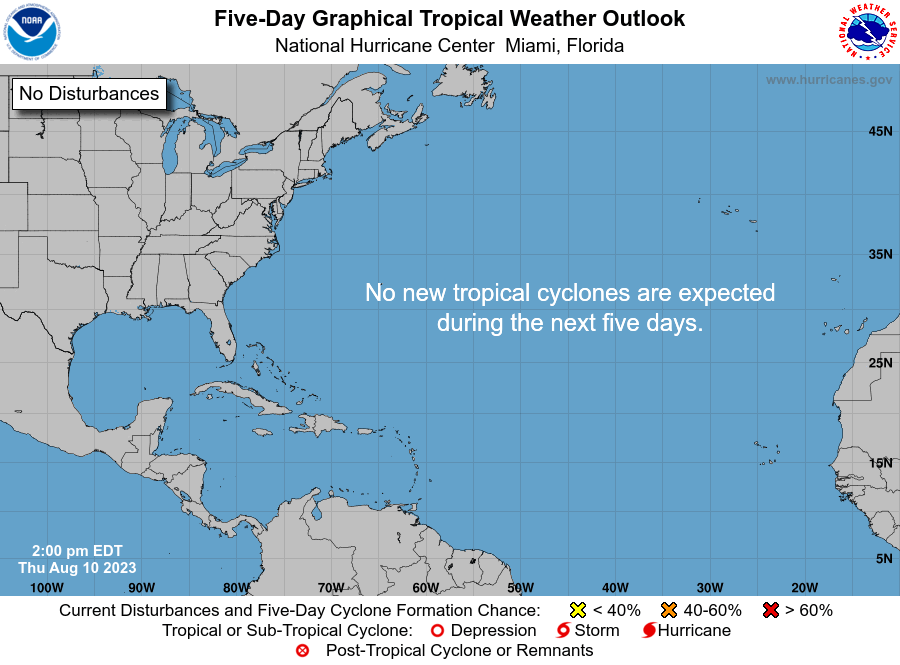 This map is updated at approximately 2 AM, 8 AM, 2 PM, and 8 PM EDT from June 1 to November 30, with special outlooks issued at any time as conditions warrant. The graphic describes potential new tropical cyclone formation only; currently active cyclones are not shown. By clicking on this map, a new window will open at the National Hurricane Center for even more detailed information. When there, mousing over the shaded areas displays details on each disturbance; clicking on the shaded areas or disturbance numbers toggles a view of a single or multiple disturbances.


000
ABNT20 KNHC 271120
TWOAT

Tropical Weather Outlook
NWS National Hurricane Center Miami FL
800 AM EDT Thu Jul 27 2017

For the North Atlantic...Caribbean Sea and the Gulf of Mexico:

Disorganized cloudiness and showers extending from the Cabo
Verde Islands southwestward across the Atlantic are primarily
associated with a tropical wave. Slow development is possible over
the next several days while the system moves westward or
west-northwestward at 5 to 10 mph.
* Formation chance through 48 hours...low...near 0 percent.
* Formation chance through 5 days...low...30 percent.

$$
Forecaster Avila




No tropical cyclones as of Thu, 27 Jul 2017 14:36:03 GMT


000
WTNT33 KNHC 221434
TCPAT3

BULLETIN
Tropical Depression Cindy Advisory Number 12
NWS National Hurricane Center Miami FL AL032017
1000 AM CDT Thu Jun 22 2017

...CINDY WEAKENS BUT HEAVY RAINS CONTINUE...


SUMMARY OF 1000 AM CDT...1500 UTC...INFORMATION
-----------------------------------------------
LOCATION...31.0N 93.5W
ABOUT 165 MI...265 KM NW OF MORGAN CITY LOUISIANA
MAXIMUM SUSTAINED WINDS...35 MPH...55 KM/H
PRESENT MOVEMENT...N OR 10 DEGREES AT 13 MPH...20 KM/H
MINIMUM CENTRAL PRESSURE...997 MB...29.44 INCHES


WATCHES AND WARNINGS
--------------------
CHANGES WITH THIS ADVISORY:

The Tropical Storm Warning from High Island Texas to Morgan City
Louisiana has been discontinued.

SUMMARY OF WATCHES AND WARNINGS IN EFFECT:

There are no coastal watches of warnings in effect.

For storm information specific to your area, including possible
inland watches and warnings, please monitor products issued by your
local National Weather Service forecast office.


DISCUSSION AND 48-HOUR OUTLOOK
------------------------------
At 1000 AM CDT (1500 UTC), the center of Tropical Depression Cindy
was located near latitude 31.0 North, longitude 93.5 West. The
depression is moving toward the north near 13 mph (20 km/h), and a
turn toward the north-northeast is expected later today, followed by
a turn toward the northeast on Friday. On the forecast track, Cindy
or its remnants will move into southeastern Arkansas early Friday,
and into Tennessee later on Friday.

Maximum sustained winds are near 35 mph (55 km/h) with higher gusts.
Additional weakening is forecast and the depression is expected to
become a remnant low by Friday if not sooner.

The estimated minimum central pressure is 997 mb (29.44 inches).


HAZARDS AFFECTING LAND
----------------------
RAINFALL: Cindy is expected to produce rain accumulations of 3 to 6
inches with isolated maximum amounts up to 8 inches over extreme
eastern Texas, Louisiana, and southern and eastern Arkansas
through Friday morning. Additional rainfall amounts of 2 to 4
inches with isolated maximum amounts of 8 inches over southern
Mississippi, southern and central Alabama, and extreme western
Florida Panhandle are expected through Friday morning. This may
bring storm total rainfall in excess of 15 inches in some isolated
locations. This rainfall could cause life-threatening flash flooding
in these areas.

Heavy rainfall will expand across the Tennessee and Ohio valleys
today and across the central Appalachians Friday into Saturday.
Rainfall amounts of 2 to 4 inches with isolated maximum amounts of
6 inches are expected through Friday morning.

WIND: Gusts of tropical storm force in a few squalls are still
possible mainly to the east of the depression.

STORM SURGE: Inundation of 1 to 3 feet above ground level is still
possible along the northern Gulf of Mexico coast in areas of strong
onshore winds.

TORNADOES: A few tornadoes are possible through tonight from the
lower Mississippi and Tennessee Valley regions to the central Gulf
Coast.


NEXT ADVISORY
-------------
This is the last public advisory issued by the National Hurricane
Center on this system. Future information on this system can be
found in Public Advisories issued by the Weather Prediction Center
beginning at 4 PM CDT, under AWIPS header TCPAT3, WMO header
WTNT33 KWNH, and on the web at http://www.wpc.ncep.noaa.gov.

$$
Forecaster Avila


GOES Full Disk and Broad Coverage Radars
GOES Infrared Channel 4 Rainbow Enhanced
Atlantic satellite (GOES East infrared)
Radars to watch weather and forecasts to predict weather can be important to keep your family safe, particularly from severe weather that can be a threat to your family. These various live weather maps of the United States and a full infra-red disk view of our side of the planet, with limited information on severe weather, and New Mexico Weather for the Albuquerque, Bernalillo, Santa Fe corridor, are provided by BBSNews as a service to our readers.
These weather features of BBSNews are to be used for information purposes only. Make sure that you check with relevant authorities in your area for the most up to date weather information. Did you know that many people die each year from severe weather? It is a good idea to have an emergency kit with fresh water and a weather radio that you can tune to your local emergency officials.