An off-duty Miami-Dade police major had his leg amputated Sunday after crashing his motorcycle in the southbound lanes of Interstate 75.
Maj. Ricky Carter was riding his personal motorcycle when he slid off the highway and struck a guardrail near Northwest 138th Street.
Carter was taken by helicopter to Ryder Trauma Center at Jackson Memorial Hospital, where he was listed in serious condition.
"The entire Miami-Dade Police Department is keeping Maj. Ricky Carter in their thoughts and prayers during this difficult time," Miami-Dade police said in a statement. "We ask that he and his family be given the privacy they need throughout this critical stage."
"We don't know if our officer lost control or something else occurred, but we do know that there were no other vehicles involved," Miami-Dade police Detective Robin Pinkard said.
As new broke about the crash, Carter's co-workers arrived at the hospital to show their support, including Miami-Dade police Director Juan Perez.
Miami-Dade County Commissioner Jose "Pepe" Diaz, an avid motorcycle rider, also went to the hospital to visit Carter.
"Great guy," Diaz said of Carter. "It's very sad that things happen to great people."
Miami-Dade police shut down a portion of the interstate for more than seven hours as they investigated the cause of the crash.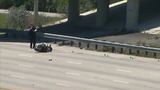 Carter has been an officer for 21 years. He has worked in several special teams at the Miami-Dade Police Department, including SWAT and narcotics.
Carter is known for his deep commitment to the community and regularly volunteers for community service projects.
In December, Carter led a team of police volunteers as they took part in the final home beautification project of 2016. He helped the team paint the home of Gloria Martin, 66. The team also did landscape work and undertook general repairs at the home.
Carter also helped provide support after the shooting death of 8-year-old Jada Page.
The Dade County Police Benevolent Association said Sunday on Twitter that Carter is in its members' thoughts and prayers.
Perez also took to Twitter, saying that Carter and his family are in need of prayers and that there is a "long road ahead, but we are united and strong in faith."
This BBSNews article was syndicated from News | WPLG, and written by News | WPLG. Read the original article here.
This BBSNews article originally appeared on News | WPLG.